Evidence mounts of link between severe gum disease and various cancers
17. 01. 2018 | ecancer.org
---
Three recent studies have added further weight to the link between periodontitis and overall cancer risk. The first [1] showed that severe periodontitis was associated with a 24 percent increased risk. The second [2] and third [3] investigated the role of bacteria causing periodontitis in the development of oral cancers and certain other cancers.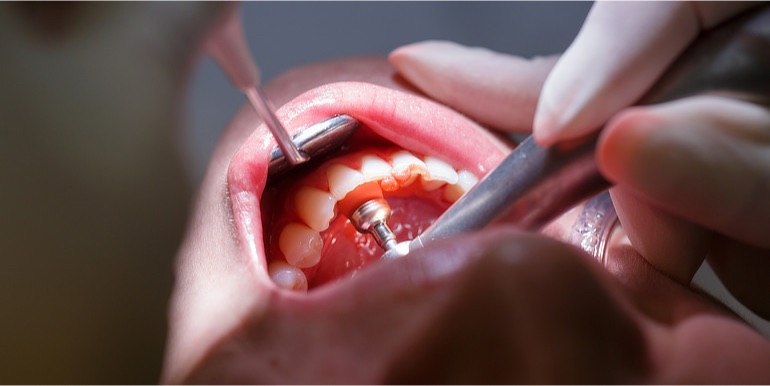 Image credit: depositphotos.com
Data collected during a long-term health study provides additional evidence for a link between increased risk of cancer in individuals with advanced gum disease, according to a new collaborative study led by epidemiologists Dominique Michaud at Tufts University School of Medicine and Elizabeth Platz of the Johns Hopkins Bloomberg School of Public Health and Kimmel Cancer Center.
The study, published in the Journal of the National Cancer Institute, used data from comprehensive dental exams performed on 7,466 participants from Maryland, Minnesota, Mississippi, and North Carolina, as part of their participation in the Atherosclerosis Risk in Communities (ARIC) study who were then followed from the late 1990s until 2012.
Read the whole article at ecancer.org
Reference
Michaud DS, Lu J, et al. Periodontal disease assessed using clinical dental measurements and cancer risk in the ARIC study. Journal of the National Cancer Institute 2018. doi: 10.1093/jnci/djx278
Nieminen MT, Listyarifah D, et al. Treponema denticola chymotrypsin-like proteinase may contribute to orodigestive carcinogenesis through immunomodulation. British Journal of Cancer 2017. doi: 10.1038/bjc.2017.409
Heikkilä P, But A, et al. Periodontitis and cancer mortality: Register-based cohort study of 68,273 adults in 10-year follow-up. International Journal of Cancer 2018. doi: 10.1002/ijc.31254
Keywords: periodontitis, gum disease, oral cancers, lung cancer, colorectal cancer, colon cancer, pancreatic cancer