Cancer incidence continues to rise: 1 in 5 men, 1 in 6 women
14. 09. 2018 | medscape.com
---
In 2018, an estimated 18.1 million new cases cancer will be diagnosed globally, and 9.6 million will die from the disease, according to the latest report from the International Agency for Research on Cancer (IARC) [1].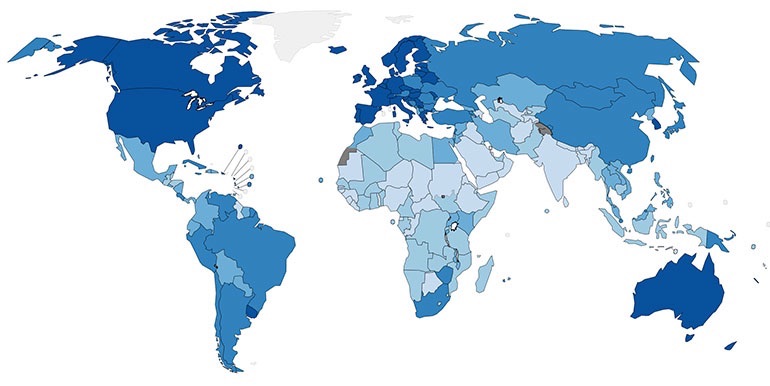 Image: GLOBOCAN 2018
One in 5 men and one in 6 women worldwide will develop cancer during their lifetime, and one in 8 men and one in 11 women will die from cancer.
Cancer incidence and mortality are rapidly growing worldwide, the report notes.
"The increasing cancer burden is due to several factors, including population growth and ageing as well as the changing prevalence of certain causes of cancer linked to social and economic development," the IARC commented in a statement. "This is particularly true in rapidly growing economies, where a shift is observed from cancers related to poverty and infections to cancers associated with lifestyles more typical of industrialized countries."
Read the whole article at medscape.com
Reference
Bray F, Ferlay J, Soerjomataram I, Siegel RL, Torre LA, Jemal A. Global cancer statistics 2018: GLOBOCAN estimates of incidence and mortality worldwide for 36 cancers in 185 countries. CA: A Cancer Journal for Clinicians 2018. doi: 10.3322/caac.21492.
Keywords: cancer incidence, International Agency for Research on Cancer (IARC), GLOBOCAN 2018, lung cancer, breast cancer, colorectal cancer, prostate cancer, liver cancer